Welcome to Rockdale, Texas!
The Rockdale Chamber of Commerce is a community based, non-profit organization designed to help build the business community. While our dedication is first and foremost to our members and businesses -- we are also passionate about the community as a whole.
We strive to help our businesses see success and unify the public spirit of our community. Our mission is to preserve and promote the economic interest & well-being of Rockdale. We complete our mission every day by working with other entities and community groups in Rockdale with the same vision.
According to Texas Chamber of Commerce Executives Association, "The Chamber gives members a place where they can become engaged, sharing a vision for the future of their community and sharing the collective influence to make it happen."
At the Rockdale Chamber of Commerce, we believe in these statements and uphold the integrity and poise to be a valued organization within our community.
We encourage citizens to exercise their civic responsibility to join the Chamber of Commerce and make a positive difference in their community.
The Rockdale Chamber Office also serves as our community's Weekday Visitor Center. As such, we have the responsibility and honor to work to bring visitors and tourists into our community to visit our historical sites, engage in scheduled events, stay in our hotels, shop our stores, and dine in our restaurants.
Please forgive us as we re-construct our website.
It will take us a bit, but we are working as quickly as possible, and will be bringing you new features.
May Business of the Month
Climate Control, owner Nathan Doelitsch, was started in 2004 to provide friendly and professional service to our customers. We are a small locally owned company which can take care of all your air conditioning, heating and refrigeration needs. We repair and install residential and commercial systems and have experience in chiller and boiler systems as well. In 2007 we were fortunate enough to purchase Angell Air and are proudly servicing all of
David's customers as well. We hope that you are pleased with any work we do and appreciate any feedback from our customers either positive or negative. Our customers are our business and we will do whatever it takes for your satisfaction and continued loyalty. Climate Control is located at 1244 W US Highway 79, 512-446-4020. Please call for all your AC needs.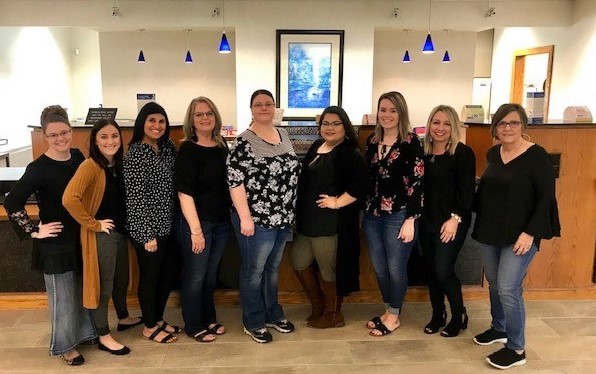 April Business of the Month
Congratulations to Classic Bank!
Pictured are: Amy Hillman, Kourtney Cannon, Melissa Barcuch, Patti Morgan, Jennifer Stear, Jennifer Zelaya, Brittany Barchenger, Kelli McCall, Deborah Burrough.